We humans are naturally drawn to open country -- to the open sea and sky.
It's where everything comes clear.
The view from our beach towel on Isla Chapera in the Las Perlas Islands
I think the word "adventure" is overused. For me, it's when everything goes wrong -- THAT is when the adventure truly starts. After months of work on the dock in Panama City repairing
Espiritu
after her lightning strike, Chris and I finally untied the dock lines and set her free. We set sail for the Las Perlas Islands, 30 miles away. Happily, the old girl took to the water without a care in the world -- as if nothing had ever happened.
They say the ocean has healing powers, as well as the wind and the sun. I should say so! A few glitches remained with the SSB, VHF and auto pilot, and we almost hit another floating tree (welcome to Central America during the rainy season) but we were so happy to be back on the water where we belong. :-)
Our first stop: Isla Contadora
We grabbed a map and eagerly went ashore to explore Contadora's winding pathways.
Chris: "I know there's a beautiful beach here somewhere..."
And just like THAT, we were in the jungle!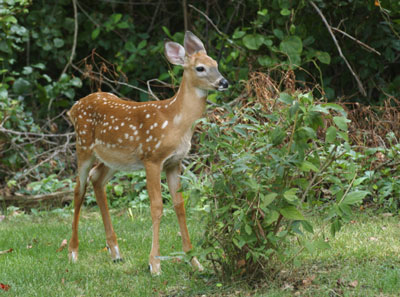 We were shocked when a deer bounced across our path. A deer on a tropical island?
Chris strolls along one of Contadora's clean, cared for roads
This "For Sale" sign is completely covered with newly-grown foliage. If you want to sell your property in Central America, you've gotta prune the vines around your sign a couple of times a week!
People do live on Contadora. I'm always amazed when people feel the need to build a
pool when you've got crystal-clear 84 degree water on the beach just outside the door!
Wow -- that must have been quite the storm!
One of Contadora's inviting beaches
This roadside wildflower seems to be exploding with joy, like a Chinese fireworks display
Village tiendas in Latin America often call themselves the charmingly oxymoronic
"Mini supermarket." There are three itty-bitty ones on Contadora.
This one is "smally" but we wouldn't call it "Blandy." :-)
Vines, vines, vines everywhere!
You know you're in the tropics when wild pineapples are your flotsam and jetsam
A Panamanian couple next to us on this beach played Jack Johnson on their stereo -- how perfect is that?
They say that silence is the language of God
The Travelocity gnome was here?
There are lots of dive shops on Contadora
Bear Grylls of "Man vs. Wild" dove here
Check mate!
After a couple of lovely days and nights at Contadora, a storm came in which
made the anchorage untenable, so we pulled and motored over to the gorgeous
anchorage between Mago Mago and Chapera Islands.
OK, after 11 months of hard work and sacrifice heading south, we've finally arrived. :-)
We swam and snorkeled the reefs full of parrotfish, angelfish, barracudas,
rays and even a sea snake or two.
50 foot visibility greeted us when we snorkeled the reefs of the Perlas
Several adult and youngster humpbacks swam, breached, flapped, fed and played all around the anchorage during our stay. One came right up next to the anchored Espiritu (within 5 feet), popped up as if to say "Hey, mate!" and then ambled on.
As we snorkeled and swam, we were stunned to find that we could hear the nearby humpback whales singing. We looked at each other in disbelieving awe.
The Greeks spoke of different types of time. There is Chronos time, or chronological time. And then there is Kairos time, which literally translates as "in between time" -- where time seems to slow down along with our pulse and lowering blood pressure.
This is what we experienced here at Chapera.
Our friends Larry and Sandy aboard
I Yam What I Yam
soon arrived in the anchorage. Together we jumped in the dinghy with plans to circumnavigate Mago Mago, with stops for snorkeling along the way.
The seas were flat calm as usual as we putted along in the dinghy.
Suddenly, out of nowhere two 15 foot breaking pipeline-type waves suddenly appeared and rocketed over the reef shown above. They just missed us. Later, back at anchor, the tides came and went like rushing rivers, nearly dislodging our anchors. We thought all of this was strange but didn't think anything of it.
We found out two days later that a 7.5 earthquake had struck just offshore of neighboring Costa Rica, and there was a tsunami warning issued.
Well. If those waves had hit us noone would have died, but we would have been violently tossed into the sea -- AGAIN -- by our dinghy. LOL...
Anyway, we heard there were no fatalities due to the quake, and no major tsunami resulted.
After several idyllic days here in the Las Perlas, we settled in for our last evening aboard Espiritu before we would head home to Panama City at first light.
After dinner, we turned on the politically-incorrect but hilarious farce "Tropic Thunder."
Almost immediately, a pretty violent lightning storm blew in, so we watched "Tropic Thunder" while REAL tropic thunder pounded around us.
We should have figured that turning on "Tropic Thunder" might have been a bad omen. Just two nights ago,
I Yam What I Yam
turned on "Hackers" and -- I kid you not -- it fried their hard drive.
You can't make this stuff up, people!
Anyway, things continued to decopensate in the anchorage, as the storm tried to toss Espiritu onto the dark beach, which now in the black of night and in the midst of the lightning, thunder, rain, wind and waves, suddenly didn't look as inviting as it had merely hours before.
So we pulled anchor in the middle of the cacophany and headed to sea. This is something that non-sailors can never understand. But if you're at anchor in a bad storm, sometimes at sea is the safest place to be.
So we headed home to Panama City, and arrived at our mooring at the Balboa Yacht Club the next morning.
Moorings at the Panama City Balboa Yacht Club
We're poised at the mouth of the Bridge of the Americas and the Panama Canal. Next up: onward and finally through the canal to the Atlantic Ocean!
Onward...