Hola from Mazatlan, Mexico!
Chris and I made the 2 night passage east across the Sea of Cortez and arrived early this morning in Mazatlan.
Las Frailes, Baja California
We spent the last week at a beautiful anchorage at the far southeast tip of Baja called Las Frailes. If you look in the photo above, you can see our sailboat amongst the others in the anchorage far below.
Espiritu happily anchored in Las Frailes
Our 5 days at Las Frailes could not have been more different than Cabo San Lucas, obviously.
We hiked, snorkeled, swam, read and played music.
I made chocolate chip cookies and we played chess when a storm passed through and we had a full rainy day inside the boat. Having a few more hours to kill, we read the headlines to each other from a week old newspaper we found in Cabo.
Is Newt Gingrich really the man to beat now in the Republican Race? Or is that so two weeks ago now? LOL...
"You know how I beat you at chess? I just sit back and let you beat yourself." -- The Hubster to me after soundly beating me at the game of kings. (sigh -- LOL)
Doing some Aunt Liz and Uncle Chris duty with Leah and Holly of "Wondertime."
We also got to see the famous jumping manta rays of Baja. For reasons unknown, juvenile manta rays leap several feet out of the water, several at a time, as a group, then slap down onto the water.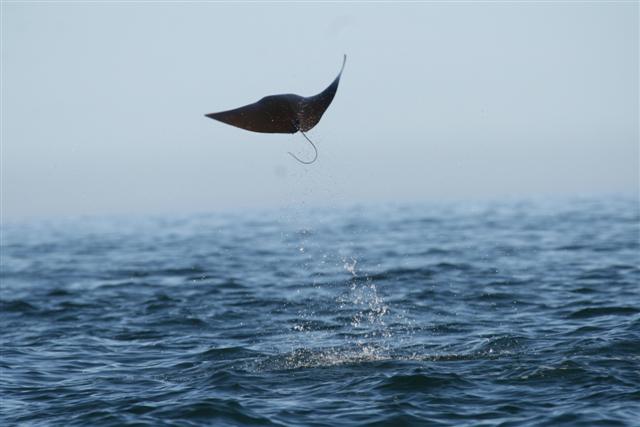 We saw this show not 15 feet off of our boat! Wow! There were 10-20 of them doing this all at once!
After 5 wonderful days in this lovely spot, it was time to move on. Time for more night watch as for the first time, we turned away from land and made a serious ocean crossing, over to the Mexican mainland.
In further reading of Joseph Campbell's works on myths and their meaning, I'm coming to understand that my purpose for this adventure is to work on my courage. Fear tends to grip me sometimes, sadly. If I am to be honest, fear is probably why I never had children.
So -- since this is my achilles heel, I'm seeing that addressing my fear, and working on courage -- is my purpose on this journey.
In my last two night watches, I've developed a new way of looking at the night.
If you understand astronomy, you know that the universe is mostly a very dark place. It's naturally that way.
During the day, the reason it is light is because the sun is shining on the earth, like a big flashlight. And then...the flashlight disappears under the horizon for the night. But it's not completely dark. We have the little flashlight (the moon) and the tiny flashlights (the stars and the planets) lighting our way.
In short, I'm trying to visualize that the night and the day are really the same thing -- just with different size flashlights shining on us.
Last evenings solo night watch went really well. I'm becoming more comfortable in the darkness.
An odd event:
As Chris slept below, at around 2 AM I heard a voice come on the radio whispering in a cryptic voice:
"Filipino Monkey."
What? Well, although some of my favorite people are Filipino, I definitely am not. And though anthropologists say I have Simian origins, I am not a monkey either. So I knew the message was not aimed at me.
Whispered again: "Filipino Monkey."
I looked aroun
Espiritu
was the only boat around for miles and miles. So the message was not aimed at me.
One minute later: a whispered, cryptic "Filipino Monkey."
I wasn't scared. 'Cause I had the little flashlight and the countless tiny flashlights shining down on me.
Ah, well. Some mysteries in life will never be solved.
So we're here in Mazatlan for one week.
Mazatlan!
We feel that now that we are on the Mexican mainland, we are truly entering the Real Mexico.