We finally pulled anchor from La Cruz de Huanacaxtle and sailed south across Banderas Bay to Yelapa.
Beautiful Yelapa
We buddy boated with
Talaria
and we both took moorings in the small harbor. They say it is possible to anchor here, but not advisable as it takes the northerly swells head on. We tend to agree with this assessment.
The panga took us ashore and we went exploring.
Yelapa has a beach, harbor, village and lagoon on the other side.
The beach was lovely and the water was warm. We swam with the dozens of gringo
vacationers here on a day trip from Puerta Vallarta.
We then headed up to explore the little village, which is built vertically up into the tropical rainforest. Our mission was to find the waterfall above the town.
Yelapa is not accessible by road and has no cars! The entire town
consists of winding cobblestone streets and staircases like the one above.
We were enchanted by this adorable little village. Each home, while simple,
was tended to lovingly and with care.
Walking up through the winding streets and staircases, we felt we
were somewhere in the Mediterranean!
Horseback is one of the few modes of transportation available in charming Yelapa
Not a bad view, eh?
Chris on the path to the waterfall above town
Captain Chris in full immerson mode
Deena and I took full advantage of the privacy behind the waterfall to catch up on girl talk.
Me: "And then he said WHAT?!?!?!?!?!?!?!?!?" :-)
In a word, we were enraptured by lovely little Yelapa, and highly
recommend a stop here if you are in the Banderas Bay area.
We dropped the mooring at 10PM and headed into the darkness for a moonless night sail south. We left at this hour because we would be sailing around Cabo Corrientes, which is sort of the Point Conception of this area. It is not to be traversed during late afternoon hours, which can bring gale force winds.
The night sail went well, with winds about 20 knots around Cabo Corrientes. We arrived at our destination of Chamela Bay the next afternoon.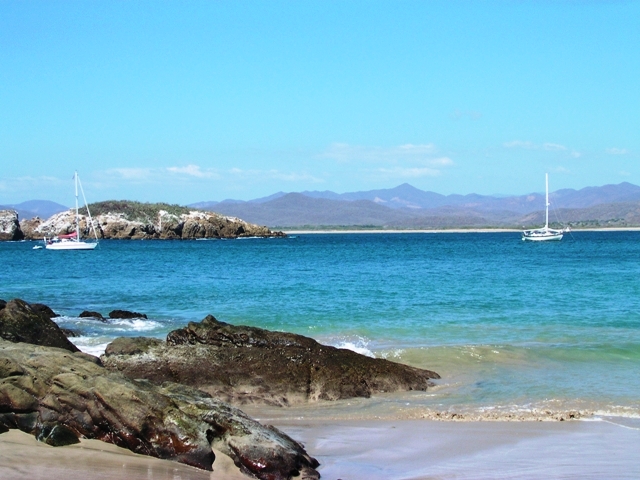 Chamela Bay, where the water is blue, warm and clear