Lovely Sayulita
We jumped on a bus to Buserias, where we caught a second one north to the beach town of Sayulita.
This is a good time to talk about Mexican buses. Some people call them chicken buses as it is not unheard to see one or two aboard combing the aisles.
The drivers of Mexican buses apparently have free reign to decorate their interiors in any way that they see fit. There is almost always an image of Jesus or Mary up front, right next to multiple cultural icons, drawings of Mickey Mouse, soccer team logos, you name it.
A colorful Mexican bus
After taking dozens and dozens of trips aboard Mexican buses so far, we have never ever felt unsafe. Sure, they're not air conditioned, but at 8 pesos a ride, whose complaining?
Anyway, Sayulita awaited.
Sayulita is the surf mecca of Pacific Mexico. It's got a young, artistic feel to it
Chris with Tricia and Derek of Enterabang! on the Sayulita waterfront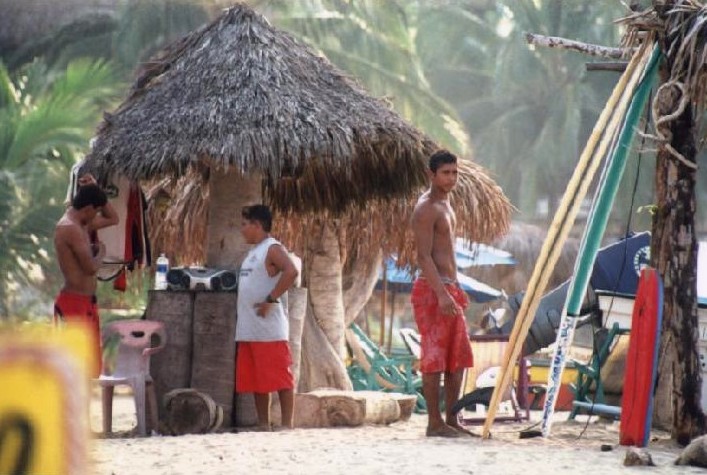 After soaking up the local color, we wanted to stretch our legs and take a walk outside of town.
A waterfront home south of Sayulita
An oceanfront Sayulita vacation cottage
We headed up into the jungle to get a bit of exercise. Nothing like getting out into nature to clear the cobwebs!
The road less traveled...
Chris in the midst of splendid isolation
Back up on the beach into Sayulita for lunch
We ate at a taco stand on the street. Notice how they put the plastic plate in a plastic bag -- instead of doing dishes they just threw the bag away after the meal. Hmmmmm. That's one way to do it!
After lunch I did some bodysurfing in the famous Sayulita waves.
The waves and surge were bigger than usually experienced in Southern California. The ocean floor was quite rocky in some areas and I cut my knee on the bottom. One big difference between Mexican beaches and California beaches? No lifeguard stands down here. No lifeguards, period. You're on your own.
No, this isn't some strange post-mortem body preparation before cremation. This woman actually paid to get a full body massage right on the Sayulita beach with some strange mud concoction. She seemed to be enjoying it...
Well, we thoroughly enjoyed Sayulita, and heartily recommend it for anyone visiting this part of town. It's too bad there isn't an anchorage here -- then the town would be perfect. But we sailors need an anchorage...
So we headed back to La Cruz.
Chris sits at the actual bus stop in Sayulita. How cute is that?