The incredibly lush Bahia Papagayo
We spent a week exploring the lovely Bahia Papagayo. Our first port of call was Playa del Cocos.
Typical upscale waterfront bar and eatery at Bahia de Cocos. Gringos were everywhere...
After spending the first 48 hours checking into Costa Rica at Cocos, we were greeted with this mildly horrifying sight coming over the horizon:
This monstrosity in the sky was too small for a hurricane, too big for a twister. (Is global warming creating new weather phenomenon now?) Note the very organized lines of demarcation. Powerless to do anything but hope and pray that the storm weakens or turns away, we "battened down the hatches..."
...but alas, she did not dissapate. She merely strengthened as she bore down on us (again, note the line of demarcation as well as the black sky). With the boat prepared, there was nothing to do but wait inside the warm and dry "Espiritu." We played a nervous game of crazy rummy as she roared over us.
Fortunately the anchor held, the mast stayed up, and I won the rummy game! :-)
We are definitely in the tropics now! Colors are everywhere...
Main street in Playa de Coco
We saw this White-nosed Coati during a hike in the rainforest
Another anchorage not far from the Four Seasons
This big guy, about 2 feet long, graciously posed for us at Marina Papagayo, where we filled up the tanks with water and fuel and spent the evening with Howard and Lynn of "Swift Current." We love their company and we also love their air conditioning! :-)
This waterfront basketball court in Cocos exemplifies the excellent
quality of life for the locals here. Pura Vida indeed!
Would YOU cross this bridge?
After checking the river for crocs (it was croc-free) we went for it.
Flashback to Tom Sawyer's Island at Disneyland!
Yet another gigantic pig sleeping by the side of the road. This guy had to be several hundred pounds!
A drive-thru car wash, Costa Rica style
Which road do we take? They're both so beautiful!
OK, we'll pick this one
Costa Rica is famous for its serious attitude about clean energy and concern
for the environment. These recycling centers are everywhere.
We pulled anchor and moved south to Playa Brasalito.
Our stay there was squally, rainy and very rolly.
I was surprised to see this American-style evangelical sign on the road here -- and in English!
And down the road, there was one more
This 3 foot long sake carcas was in the middle of the highway.
They DO have boa constrictors here in Costa Rica. I'm keeping a lookout for 'em...
Jack and the Beanstalk, Costa Rica style
Tired of the rolly anchorage, we pulled anchor with Swift Current and tried our luck at Bahia Tamarindo, a very popular surf town here in Northern Costa Rica.
Enjoying a Coca Light at a waterfront establishment in Tamarindo
I was thrilled to find a large, well-stocked used bookstore here. They took my already read books in trade, and I replenished my stock with 7 new (used) books! This made my week!
This is Tamarindo's idea of a strip mall... :-)
The thing about Tamarindo, though, is this: it's a SURF town. Which means it's got big waves and big swells -- which are great if you're a surfer -- but it's not so great if you're a sailor.
This is what happened to both Chris and I in our dinghy AND Howard from Swift Current in his inflatable. These swells and waves are murder on tiny boats...
Trying to re-enter the ocean from the beach aboard our dinghy, we got hit with a solid wall of green water, which knocked my glasses off my head, but graciously left the boat upright and filled with water. Howard was not so lucky, as he suffered a complete capsize.
Ah, well...fortunately I had a back-up pair of old glasses so I'm not completely up a creek.
We were so exhausted after several stressful days and sleepless nights in rocky/rolly anchorages. Espiritu and Swift Current pulled anchor yet again and headed south in search of calm weather and flat, comfortable anchorages. And we finally found one: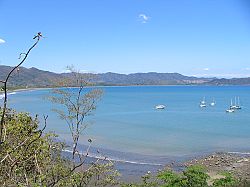 Beautiful and calm Bahia Ballena, Costa Rica
We may stay here several days. It's like a flat, hot bathtub. We slept 11 hours last night! Hasta luego!