Captain Chris in his favorite spot -- aloft, amongst the sail and the rigging
Well, Chris and I remain here in Panama City working hard repairing
Espiritu
after her lightning strike. We're hoping to be ready to traverse the Panama Canal and head to the Caribbean within a couple of weeks or so.
The causeway with the Bridge of the Americas in the distance.
When we traverse the canal, we will finally make the famous passage under that bridge.
Until we do, though, she will lovingly taunt us just a bit every day...
Since we both had our glasses knocked off our heads in the wild wind and water that is Costa Rica, we headed to the Albrook mall here in Panama City to find an optometrist. We had no idea what to expect with price, etc.
The only difference between optometrists in the states and in Panama...is the price. Are you sitting down? The complete cost for an optometrist exam and new glasses with bifocals is...
$110.00.
Yeah. I know. So that was a very happy day. :-)
We took a tour of the Mira Flores lockes of the Panama Canal (visible just behind Chris in the photo), just to give us a taste of what we're in for. To gain some valuable experience, we're going to "line handle" for our friends when
Swift Current
traverses the canal in the coming weeks.
And of course, the wild nature that is Central America continues to beguile.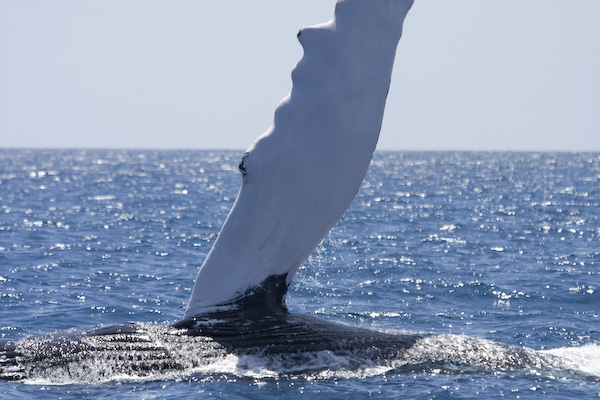 On our trip to the Las Perlas Islands, we saw a large group of humpback whales breaching and "fin slapping," as seen above. Such an awesome sight. Noone really knows why they do this.
Interestingly, the whales we're seeing now in Panama have migrated NORTH from the tip of South America, as shown in this image. So these guys are truly from the opposite side of the planet.
We passed this educational sign on the waterfront, which I'm pretty sure says the whales have SPERM where their brains are supposed to be...oh my...YES, ladies, we already knew this about the male sex, didn't we?
I was privileged to have a harlequin frog sighting. They are endangered, so I'm one lucky gal!
Yesterday Chris and I spied a family of tropical Red Breasted Blackbirds on our bikeride
And now, some tropical wildlife you don't EVER want to see...
This guy, I believe, is called Crustacious Nightmaribus Horribus, or the "Horrible Flying Blood-sucking Lobster from Hell." Or something like that. But seriously. Can you imagine waking up to find this guy sitting on your neck?
Oh, and I love these guys. They're like 3 inches tall and they have these gigantic skeletor-like heads, to reassure you that they're really nice little guys and they mean no harm...
OK, this is wildlife of a sweeter variety. I got to spend an evening cuddling with our friend Pam's Cavalier King Charles spaniel named Riley. Made me think of family in SoCal...
Hugs to family and friends. Miss you! XOXO Chris and Liz