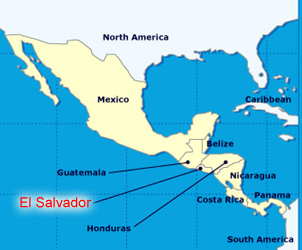 Chris and I arrived here in El Salvador 2 days ago and are happily moored in the estuary outside of the Bahia del Sol hotel, which sponsors the Cruisers Rally to El Salvador (and yes, we are participants).
There are 20-30 sailboats here participating in the 6 week rally.
Chris enjoying Bahis del Sol's impressive ocean view
Rally participants get to use the hotel pool, showers and Wifi for $14 dollars a week, and we booked a mooring bucket for 30 days for $100 bucks.
Pretty sweet!
But before we can enjoy the benefits of the El Salvador Rally, first we sailors must earn our keep by "crossing the bar" from the ocean into the estuary. This bar causes pretty righteous waves which normally any sailboat would avoid as if it's life depended on it. But the marina has a professional guide who leads us in and through the waves via jet ski.
This is our friends on "Taking Flight" crossing the bar over a particularly harrowing set. For you non-sailors: keep in mind that sailboats and actual breaking waves are never -- EVER -- supposed to be uttered in the same sentence or the same paragraph, even.
I was a pretty major "Gilligans Island" afficionado in my day, so you can imagine my confusion when I found the S.S. Minnow washed up on this El Salvador beach. I could swear she ended up on an "uncharted desert isle" somewhere near Hawaii...
The estuary really has that "Central American" feel
Young men deliver water from village to village in crayola-box jugs
Finding ourselves low on provisions, this morning we jumped in the dinghy and rode 4 miles through a winding mangrove forest to the little town of La Herredura for the saturday market.
Typical scene on the dinghy ride to Herradura
This pack of six -- COUNT 'EM -- SIX! -- wild dogs which greeted us on the street in La Herradura trumped anything we saw in Mexico. P.S. They were ALL growling menacingly. And just a few feet up the street:
...little baby Maria lies happily on the sidewalk while her young mom peddles her wares nearby. I know, I know...(sigh)...welcome to El Salvador!
When the average American thinks of El Salvador, one word usually springs to mind:
War.
As opposed to Mexico, which but for the occasional regional uprising has been relatively peaceful for generations, the people of El Salvador have suffered greatly at the hands of military dictators as well as violent revolutionaries.
Although the war has been over for years, there is a sense of world weariness in this small country that I simply didn't experience in Mexico.
In addition, there is very little tourism here in El Salvador (although that is slowly changing). In fact, their main source of income is remittances (money sent home) from Salvadorian citizens working abroad in the U.S. and other western countries.
Interestingly, ultra-frilly (some would say "tacky") aprons are de-riguer for the ladies of La Herradura. Note in this photo above all three women are wearing them. They are apparently worn mostly as fashion, because even women who did not serve food wore them proudly.
A Salvadorian woman graciously displays her ultra-frilly apron
(apparently clashing with the top is not really an issue or a concern
This sweet lady wore an actual working apron to cover her prized Salvadorian fashion apron. Is this purplexing fashion trend prevalent all over El Salvador, or simply here in La Herradura?
Even the town Catholic church wore frilly aprons! Six, to be exact.
And speaking of fashion, this Jesus inside the same church had an interesting,
Gene Simmons/KISS-esque 80's style flowing rock'n'roll mane
And on the other side of the main sanctuary, Jesus #2 had an almost gang-like facial tattoo of thorns 'round his head, and lots and lots of mascara. I found him a tad disturbing.
Oh, my. This extremely sweet Salvadorian lady provided me with my next installment of "Innocent Salvadorians who unknowingly wear mildly (or in this case, extremely) inappropriate donated American t-shirts." Sigh. With the prevalence of sex trafficking throughout the 3rd world, this scene was a pretty sad sight...
...but then there was this savvy grandma, whom I suspect may know full well the translation of her donated American t-shirt with the words "Compost happens" emblazoned across the front.
So here we are in El Salvador!
Our plans include visiting San Salvador (the capital) and a trip inland to climb a volcano or two.