Well, we've been residents of Panama City for almost 3 weeks now, and it's starting to feel like home. We've been bemoaning the sad deficiency of Van Halen songs on our iPod -- specifically their classic "Panama."
Davi Lee Roth sings in "Panama:" "Yeah, we're runnin' a little bit hot tonight.
You can barely see the road from the heat comin' on..."
But to distract us from the heat, we've been learning about the country. There is alot of history and very old architecture here. The Spanish Conquistador Balboa was the very first European to see the Pacific Ocean, and he did it on the shores of Panama. In 1513 he landed his boat on the Atlantic side, bushwacked the 60 miles across the Panama Isthmus, took one look at the Pacific Ocean and proclaimed words which would be hilarious if they weren't so horrifying, considering what the next several hundred years of European colonialism would bring:
"In the name of the Spanish Crown, I take into possession this ocean, and all it's shores and lands and borders."
Geez. Not even a "please" or a "thank-you." Well, alrighty then... :-/
Anyway, he saw the Pacific Ocean, and figured this looked pretty muy bueno so he built himself a ship and headed on up to Southern California, where I guess he discovered Balboa Island and Balboa Peninsula.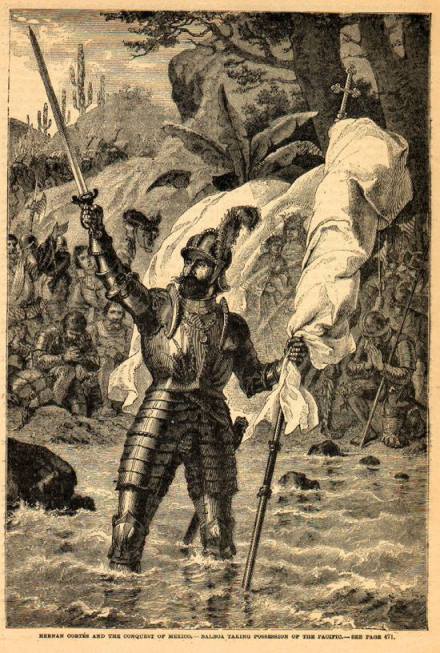 "In the name of the Spanish Crown, I want a chocolate covered frozen banana,
and I wanna eat it on an old fashioned ferris wheel!" And as it was so decreed, it was so done.
Another storm brews over the Panamanian islands
This was our view as we zig-zagged through the countless tankers coming and going at the entrance to the Panama Canal when we first arrived. But we weren't scared, having trained in and around the LA/Long Beach/San Pedro Harbor, one of the largest in the world.
Compared to other Latin American cities, drivers here in Panama City are very aggressive. Especially the taxi drivers.
This cab driver figured if ONE pine-scented car deodorizer is good, then 21 is better.
Sadly, I think he wasted his hard earned money.
This cab driver watched Jennifer Lopez videos on the console during the long drive out into the rain forest to get our propane tanks filled. Editorial comment: How in the hell are these car video screens even legal? Let alone playing videos of scantily-clad saucy latinas bumping and grinding? It's a miracle that we're all still alive at all... (sigh)
We were a bit started to see this thing lying on the dock not far from our slip, which looks suspiciously like a nuclear intercontinental ballistic missile. We're staying away from it...and hoping IT doesn't get struck by lightning!
We loved this adorable little nino in the market, helping Mom out with the groceries.
He's got his priorities straight: diapers and chow...and in a Panama hat, no less! :-)
We've been surprised to see that much of the produce here comes from the good 'ol USA!
And there's another thing that there's lots of here from the USA: expats. Tens of thousands of them. They've been very kind and welcoming to us.
Our friend Sherman gives Chris a sweet ride
Another new friend Carolina invited us to a delicious lunch in her top-floor penthouse downtown. There is definitely a spirit of warmth and hospitality here that you generally do not feel right away in the states -- at least in Southern California, anyway. So we're pretty much pinching ourselves...
The amazing view from Carolina's penthouse downtown
Well, that's it for now. More later. Looks like getting struck by lightning is not so bad after all...