Finally arrived in Cabo San Lucas this morning! That's 850 miles of sailing all the way down the Baja coast!
We're exhausted but happy.
Our passage from Turtle Bay 300 miles south to Magdalena Bay was relatively smooth and comfortable.
Mag Bay, and the town of Puerto Magdalena, is an even tinier and sleepier town than Turtle Bay.
Puerto Magdalena
When we arrived we were excited to hit the shops and do some reprovisioning. But in Mag Bay, what qualifies as a grocery store is actually someone's converted living room or dining room. It's one small unlighted room.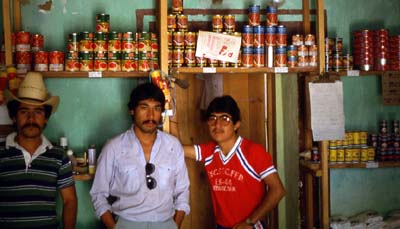 In this tiny, isolated town, our grocery shopping booty was:
2 apples
2 potatoes
6 eggs
1 package tortillas
2 containers of crackers
one onion
Fortunately we had lots of canned and dry goods to last us a few days, as another storm came through which left us holed up here for another few days. Also, our friends aboard "Spica" caught some fresh yellowtail so we were good to go for a dinner or two!
The good thing about Mag Bay is this is the first time the water has been warm enough to lure us in for a swim in beautiful Bahia Santa Maria.
After a couple of days letting the storms blow through, we were ready to make the final southbound Baja passage to Cabo San Lucas, 160 miles south. We awoke at first light, pulled up anchor and headed off. Unfortunately, after 30 minutes we discovered that our autopilot was malfunctioning.
We spent 3 hours driving in circles in the bay, with me reading the instruction manual to Chris as he tinkered with her, but alas, it was not to be. We had no choice but to turn back to Mag Bay.
After working on her for several hours, Captain Chris finally found the source of the problem (a burned out wire) and repaired her. He's amazing, that husband of mine!
The two night passage south to Cabo was a bit blustery. Also, it was our first night passage with clouds and no moon.
Sailing into pitch blackness.
For my solo night watch, by good fortune, The Foo Fighters "The Pretender" came up on iPod shuffle early in my 4 hour watch. I was a bit apprehensive about the complete darkness. The classic, kick-ass rock song came on just at the right time.
I stepped up, straddled the cockpit like a bucking bronco, and (tethered to the boat) rocked out bravely and loudly as I blasted into the pitch dark.
The thing about sailing into blackness is this: it's really not that different from real life. You know from your knowledge and experience that the path will materialize before you, whether it be sea, road or just another day at work. But stepping into the future is always an act of faith.
Then last night we spent 6 hours hove to in 25-30 knot winds 8 miles offshore waiting for the sun to come up so we could enter the anchorage at first light.
We dropped anchor in Cabo just in front of the many waterfront hotels that line the beach. It's pretty -- but crazy. Unfortunately for us, countless Americans spend Thanksgiving week doing wet t-shirt contests and beer bongs in Cabo. That's one way to be grateful, I guess!
The Cabo scene on the beach just off of our boat
Not 5 minutes after we dropped the anchor and exhaustedly fell into our bed to catch up on sleep, the guy at the hotel cantina beach party started screaming into his mike to the revelers:
"Let me see your butt cheeks!" (shreiking)
"Let me see you do some booby push ups for a free shot!" (more shrieking)
Sigh...
I'm not sure what a booby push up is. I credit my husband for not breaking out the binoculars to find out (LOL)...
Anyway, it is lovely here, despite the extreme party atmosphere. We swim and bathe in the water every day. We've reprovisioned in town, refilled our propane and diesel, and tomorrow morning we head east to Cabo Pulmo (a day sail away) where there is said to be amazing diving and snorkeling.
Cabo Pulmo National Park
We are exhausted but happy. This cruising stuff is hard work. But we're meeting good friends, exploring and looking forward to what comes around the bend.
Not sure where we will have internet again (I'm writing this in the Cabo San Lucas McDonalds, where hubster and I are sharing a McPollo, papas y Coca Dieta). It may be another week or more.
Our plan is leaving Thanksgiving Day for Cabo Pulmo (I bought some turkey breast at the deli and will make hubster a turkey sandwich in honor of Thanksgiving during our passage east), possibly Los Muertos, and then it's the 3 day sail across the Sea of Cortez to Mazatlan on the mainland.
Until then, hasta luego.
Love, Chris and Liz