24 hours 'til shove off.
Today I am provisioning.
It's a fine balance.
You want to bring enough stuff that you won't find in Mexico, without sinking the boat.
Fortunately, we really only need enough food to get us to Ensenada, about 130 miles away.
Ensenada harbor, with that famous gigantic flag.
In fact, speaking of that, my latest mantra is this:
"We're not sailing around the world. We're just sailing to Ensenada."
One overnight. That's it. Then we've arrived. At Ensenada. It's all about breaking up the BIIIIIGGGGGG journey into tiny bites.
The weather report for the San Pedro - Ensenada run is for fog:
Hope we don't encounter this big guy outside San Diego.
But if we should encounter fog, I'm alot less worried about it now
that we have our new AIS system.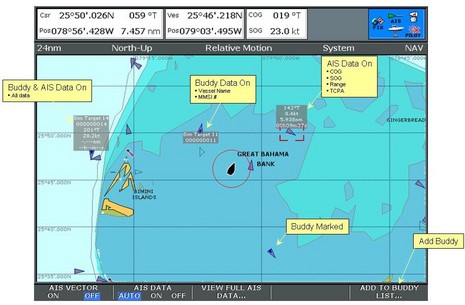 AIS
On our chart plotter, each large boat appears as a triangle (see above),
showing direction and speed. It's a Godsend!
But they're also predicting Santa Ana Winds:
Which is weird because usually these two types of weather are mutually exclusive. But we're pretty confident that the fog and the Santa Ana Winds will both be mild and cancel each other out, leaving us with this:
A perfect sunny day sailing!
We'll be out of internet contact probably through Friday or even Saturday. We'll need to get all checked in with Mexican internet, etc. I'll update the blog as soon as possible.
Send me an e-mail at lizthatgirl@gmail.com and I'll answer it as soon as we are back online.
So Bon Voyage, farewell USA! Keep in touch.
As Willie Nelson says: "We'll see you on down the road..."