Well, last night a storm blew through Turtle Bay.
We were all safely anchored but nobody slept well because we kept on waking up and checking to make sure our anchor wasn't dragging or that another boat was not dragging into us.
Also, many of the anchored boats are big power boats heading south. If one of those were to drag on top of us during the storm at night it would not be pretty!
Regarding food, Chris and I planned from the beginning to be quite frugal in this area. We are not the big money cruisers! In order for us to be able to go on this journey, we are basically not eating in restaurants. We've eaten out twice, and each time we split an entree.
In terms of eating on board, it's about being creative and using what you've got to whip up something fun and interesting.
For instance, the other evening, I assessed my provisions and came up with this little ditty:
Spaghetti Alfredo!
With apologies to my foodie family and friends, I have something to share with you -- an announcement:
Spaghetti Alfredo tastes exactly the same as Fettuccini Alfredo! Don't tell anybody. It's our little secret... :-)
In other news, although I am still Jonesing and weaning myself from my facebook/twitter addiction, I'm finding that in the sailing world, the VHF/SSB radio is the equivelant of facebook.
The way it works is you keep your radio on channel 16. Sailors within 5-10 miles around are constantly popping on with announcements, status updates, questions. Just like facebook!
One other announcement: one of our new friends was dragging their dinghy behind their boat in the passage from Ensenada to Turtle Bay, and when they arrived in harbor they discovered this: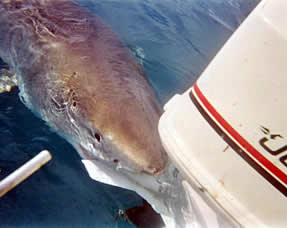 A shark too a big bite out of their dinghy!
Wow. Crazy! We've given them a ride back and forth to their boat now that they are dinghy-less.
OK, so this is our plan: tomorrow morning (Monday) we will shove off and head south for Magdalena Bay with several other sailboats in our group.
Magdalena Bay (AKA "Mag" Bay)
We should arrive within a few days. Not sure when I'll have the internet, though. It's kind of an isolated place. So it may be 1-2 weeks until I post again, which will be when we arrive in Cabo San Lucas.
It's so weird. I have no idea what's going on in the world.
Is Herman Cain still in the Republican presidential race?
Or how about the Michael Jackson murder trial? Is there a verdict?
We don't know, and I guess we don't care...YIKES, this is going to take some getting used to...LOL.
Talk to you in a couple of weeks. Until then, take care of each other for me, OK? XOXO Liz and Chris