Yesterday a very cold, wet and windy storm blew threw Ensenada. It rained on and off all night long.
Main street in Ensenada
We were so cold in our boat! Good thing we brought our long underwear and fleece! Who would have thought we would need them in Mexico!
As we sat huddled, cozy in
Espiritu
under several layers last night, with the wind and rain pelting the boat, I thought: "Well, we'll really appreciate the tropical heat once we arrive at the lower latitudes. It's no fun if you don't go through a bit of hardship to get it, right?"
Our DVD of the evening...
We awoke this morning to clear skies and a crisp, newly washed Ensenada. We also had a new guest in the marina: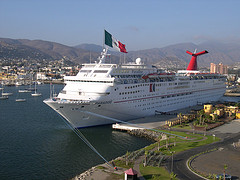 Carnival Cruise Ship "Paradise"
I felt happy because I knew that all of those sad vendors in town were happy too. Shoppers! Buyers of cheap crap! (LOL) Even more buyers of cheap tequila!
Sure enough, we went into town today for more errands (bank, internet, grocery shopping, pharmacia, etc.) and the town was filled to the brim with fanny-pack wearing Americans.
I hope my friend the jewelry seller finally made a sale today.
This morning we channel-surfed Mexican TV. We were thrilled to find out that tomorrow they will show the Bills vs. Jets NFL game!
Alright! We love the NFL, so this is an exciting development! Of course, it will be in Spanish, but really, we can live without Troy Aikman and Joe Buck for one NFL game.
I had to laugh, though -- in the TV promo announcing the game, it ended with this teaser:
"Con el Mexicano Mark Sanchez!"
Alright. Count us in. We'll be there! We have our NFL party all planned out!
After the game, though, it will be preparing for sailing again. We're expecting another storm tomorrow afternoon, which should blow through overnight.
We plan on shoving off Monday morning for Turtle Bay. This village and anchorage is almost halfway down the Baja Peninsula, at the tip of the "hook:"

It should take us about 3 days to arrive there. As always, we will be away from internet so you won't hear from us in awhile. I'll try to post again by Friday. Until then, enjoy your November, and let me know what's going on with YOU, OK? XO Liz and Chris